Values
Country-owned initiative: Countries strengthen their health systems and build integrated and tailored approaches, leading the efforts to reach NTD elimination with the support of their partners.
Leadership: As part of WHO AFRO, ESPEN stands ready to provide technical expertise to countries and partners.
Partnerships: We are a group of like-minded partners from both public and private sectors fighting for the elimination of NTDs in Africa.
Transparency: Timely information sharing.
Value for money:

Economy: Quality interventions at a minimum cost.
Effectiveness: A flexible project for rapid in-country responses, adapting to a changing environment.
Efficiency: Use quality data for smarter decision-making.
Equity: Provide equitable access to NTD interventions for all.
Benefits of partnerships
Partnerships are crucial in addressing neglected tropical diseases (NTDs). These diseases affect the poorest and most vulnerable people, and it is imperative that we ensure no one is left behind. Without the support of Qatar Fund for Development (QFFD) and other contributors, WHO would not be able to provide needed treatments to neglected tropical diseases (NTDs) such as female genital schistosomiasis (FGS), to thousands beneficiaries in Nigeria. Together we can transform the lives of millions of people.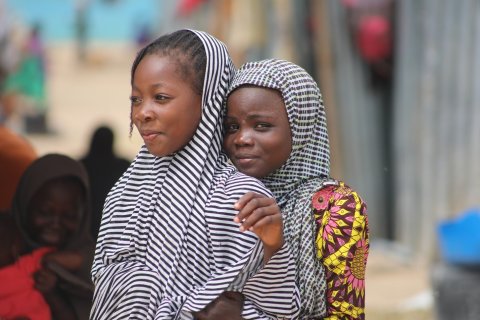 Aisha Umar and Maimunat Isah, both 11 years old, are friends living together in an IDP camp in Borno state, Nigeria. About 6 years ago, Aisha and Maimuna suffered a heavy loss, when insurgency claimed the lives of their fathers on the same day and sent both young girls to the camp. Since then, Aisha has continued to live with Maimunat's family as an adopted child.
"It is in this camp that I first heard of female genital schistosomiasis…we thought it was early menstruation or something normal. It was also in this camp that we first took the medicines to help us out. My mother is a community distributor working with the people who are helping us and that was how we got the medicine for free. I no longer have symptoms and I am grateful."
WHO Regional Director for Africa Dr. Matshidiso Moeti: "We are grateful to QFFD and other partners for their generous support which will contribute enormously to the global fight against NTDs in our region. The elimination of these diseases will give rise to healthier, happier and more productive people and economies."
The WHO AFRO Expanded Special Project for Elimination of NTDs (ESPEN) has worked with the WHO country office in Nigeria to scale up treatment to communities that had never been treated for schistosomiasis since the programmes inception. Borno state was one of many states that had untreated endemic foci. These implementing units have now received treatment under the current interventions and a large number of persons have been treated.